Destinations: Peru
Travel Style: Classic Expedition
Activity Level: • • 3 • •
Group Size: Min 1, Max 16
Age Range: 18 to 65+
Itinerary Overview
Join us on a small group tour to Peru, where we'll traverse through ancient ruins. On this Peru tour, you will immerse yourself in the country's culture, history, and landscapes. You'll climb Machu Picchu at sunrise, stroll the bustling markets of Ollantaytambo and Pisac, explore Quechua culture with a walking tour of local villages, and canopy walk above the Amazon Rainforest. On this ultimate Machu Picchu vacation, you will travel with some of the best guides and local artisans Peru has to offer.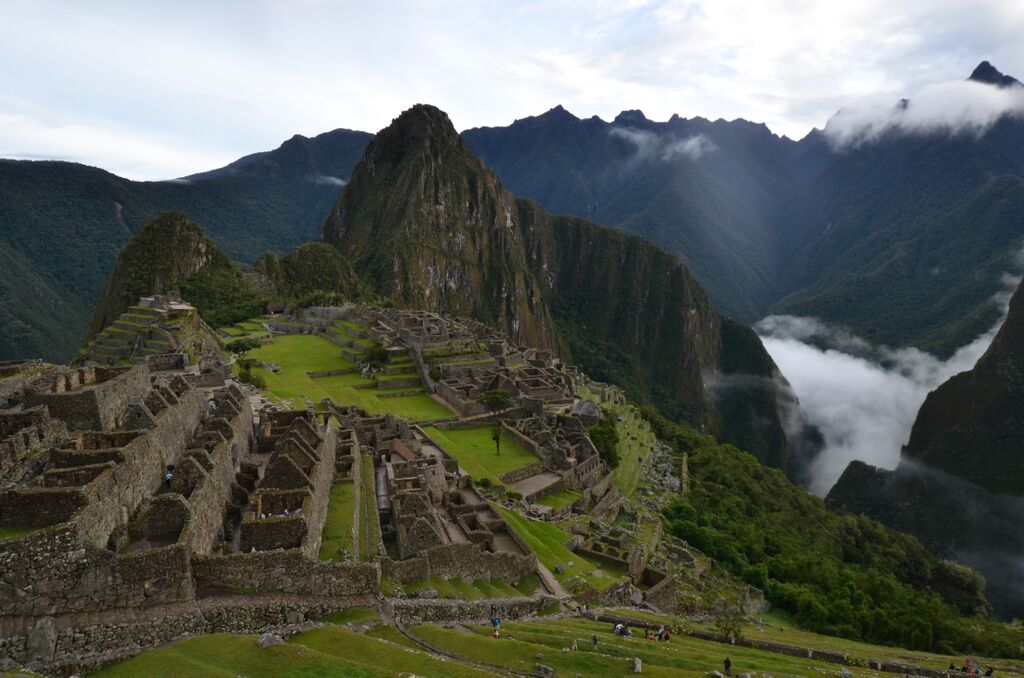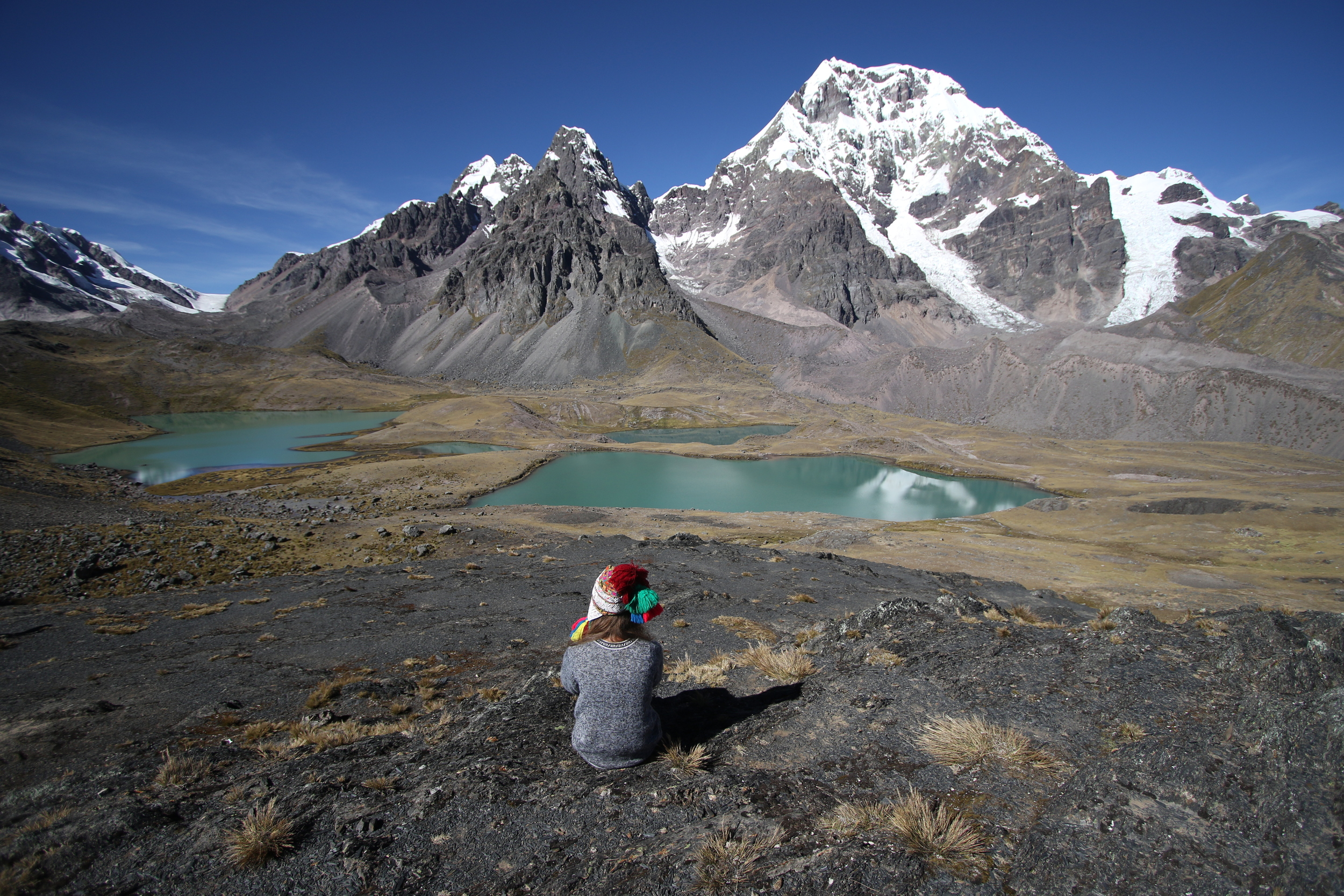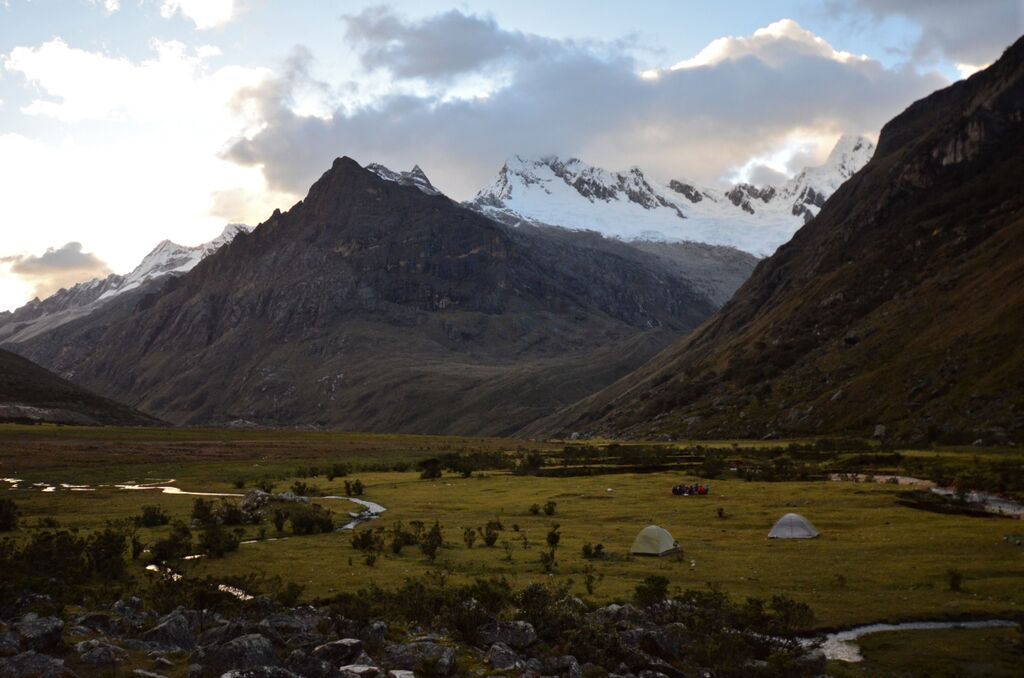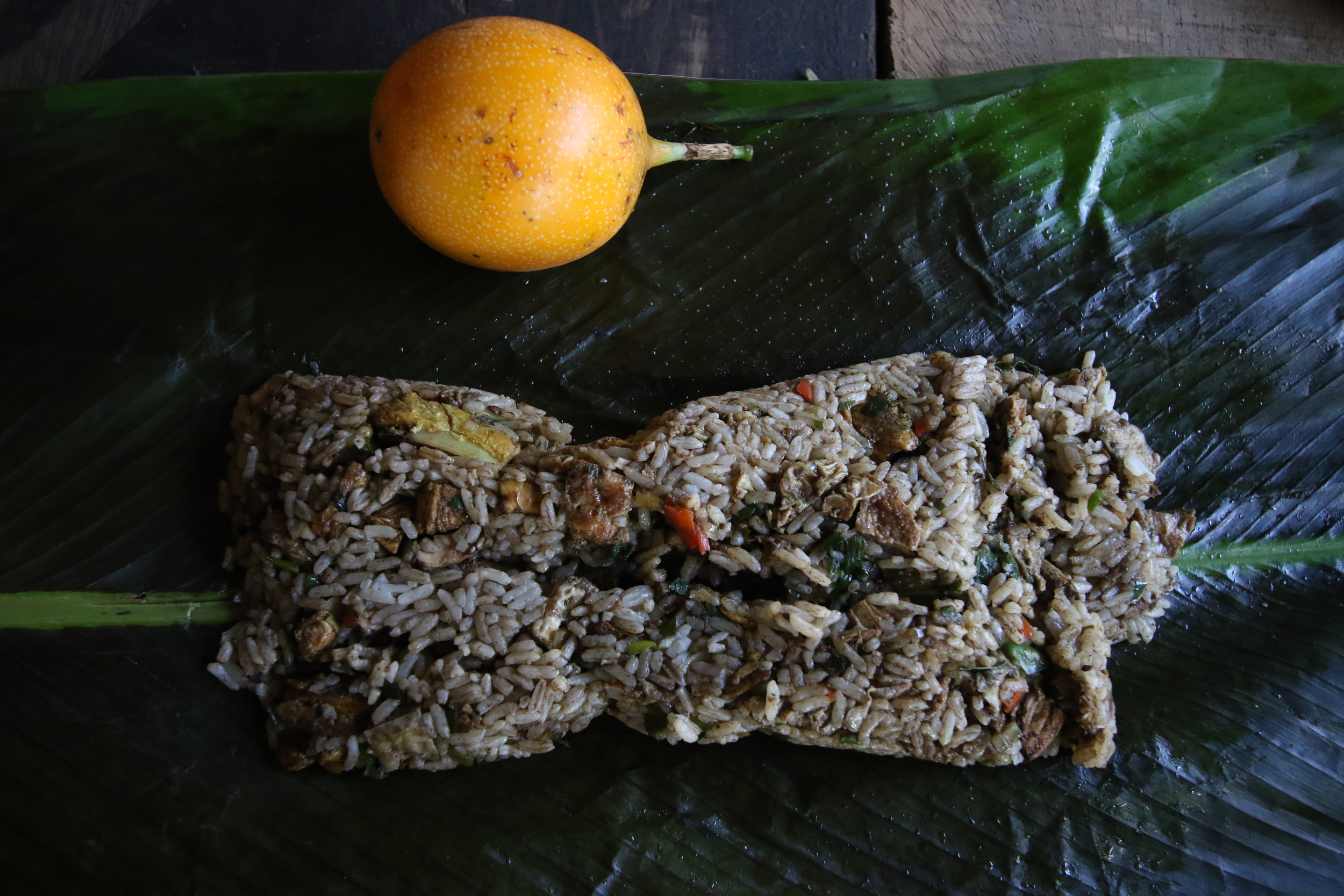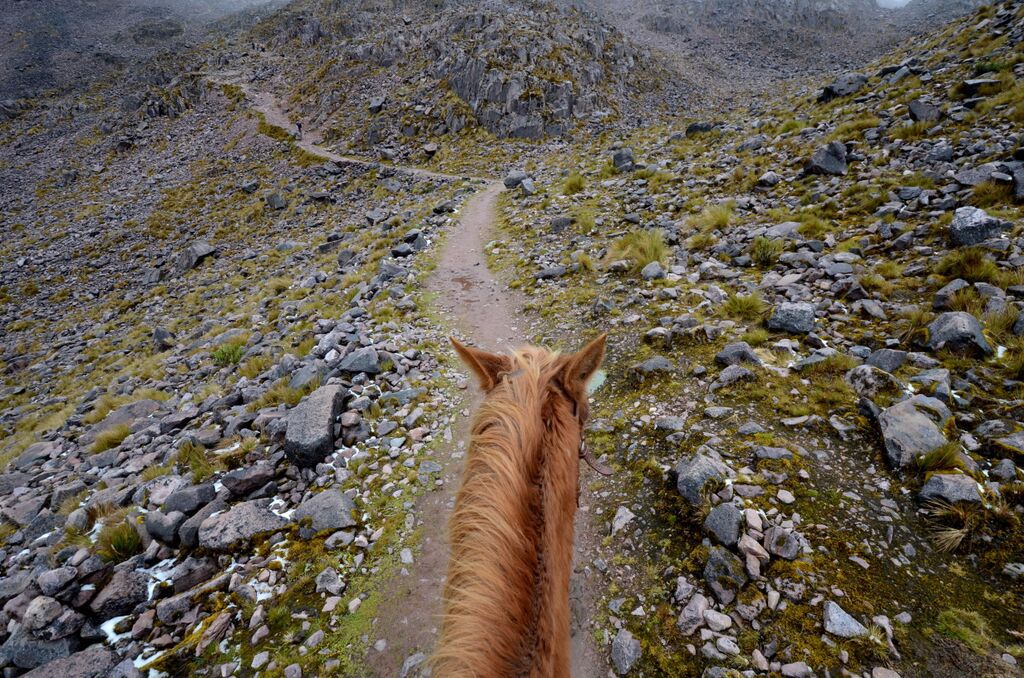 Day 1: Arrive at Cusco International Airport (CUZ); Tour Cusco, Peru
see details >
Arrival Airport: Cusco International Airport (CUZ)
Welcome to Peru! Today we'll arrive in Cusco, where we'll acclimate to the altitude with an introductory lesson on Peru. Spend the afternoon on a walking tour of Historic Cusco, and capture the magical golden hour photographing the ancient cobblestone streets of the Old City's passageways and bustling squares. In the evening, we'll have a traditional welcome dinner as we learn about Peruvian culture & cuisine.
Accommodation: Tierra Viva Boutique Hotel or Casa Adina
Day 2: Horseback Ride in the Sacred Valley; Train Adventure to Aguas Calientes
see details >
This morning, travel by horseback along the sweeping Andean landscape that cradles Cusco, learning about the surrounding ruins of the once-powerful Inca Empire. After a relaxing lunch, we'll travel by train to Aguas Calientes, passing dramatic canyons and rushing rivers before arriving at the base of Machu Picchu.
Accommodation: Tierra Viva Boutique Hotel or El MaPi Inkaterra
Day 3: Experience Sunrise at Machu Picchu; Enjoy Natural Hot Springs
see details >
Long before sunrise, we'll bus up to Machu Picchu, arriving in time to witness the sun crest over the mountains, bathing them in warm morning light. Explore the ruins and take in their colossal majesty before the hordes of tour groups appear. After we've taken countless photos, befriended the famous roaming alpacas, and enjoyed a history lesson about the significance of this ancient city, we'll head back down to Aguas Calientes. Following a hearty late breakfast and much-needed nap, we'll spend the afternoon soaking in the city's famous natural hot springs before boarding our train back to Ollantaytambo.
Accommodation: Hotel Pakaritampu
Day 4: Explore the Ollantaytambo Streets; Enjoy the Pisac Market Visit
see details >
Today we'll explore Ollantaytambo, a famous village located in the Sacred Valley of the Incas. Locals still live in the ancient homes built over 500 years ago, and the juxtaposition of ancient and modern life will be a prominent sight as we see the city's sophisticated streets, colossal fortress, and lively markets where Incas once roamed.
In the afternoon, we'll visit Pisac's famous textile markets and kick a soccer ball around with our new local friends. We'll finish off the day with a sunset hike to observe the glaciers spilling into the valley — the trek is dotted with villages and grazing llamas — before returning to Ollantaytambo and unwinding with a relaxing dinner.
Accommodation: Hotel Pakaritampu
Day 5: Explore Andean Villages; Participate in a Llama Blessing Ceremony
see details >
It's time for us to head into the spectacular Andes, known for their glacier-cracked spine that pierces the length of Peru. We'll head high into the mountains by bus, stopping for a walking tour of Cuyuni — a secluded village of only 200 residents. We'll spend time with the villagers, seeing first-hand how they live their remote lives in a rapidly changing world, learning about Quechua culture, and having the rare opportunity to experience a truly unique, isolated way of life. We will participate in a special llama blessing ceremony — a true highlight of the trip and real glimpse into Andean culture!
In the afternoon, we will continue back to the historical city center of Cusco to overnight in our hotel for the evening.
Accommodation: Tierra Viva Boutique Hotel or Casa Adina
Day 6: Enjoy a Cusco Market Visit & Cooking Class
see details >
This morning, we will wake up early and begin our final day in Cusco, exploring both the cultural and culinary highlights that this ancient city as to offer. From lomo saltado, to ceviche and causa, Peru is known for offering some of the best cuisine in South America.
Spend the afternoon exploring the village market, learning how to cook authentic Peruvian recipes, and interacting with our host families as we dine on the delicious meal that we have created.
Accommodation: Tierra Viva Boutique Hotel or Casa Adina
Day 7: Depart Cusco International Airport (CUZ)
see details >
After spending a beautiful week in the heart of the ancient Incan civilization, we will pack up our bags and continue onwards to the airport, where we will catch our connecting flights back home, or we will continue onwards into the Amazon Basin, where we'll arrive at the famous city of Puerto Maldonado - the entrance to the Amazon Jungle.
Departure Airport: Cusco International Airport (CUZ)
4-Day Extension to the Amazon Jungle
see details >
Day 7: Arrive to Puerto Maldonado in the afternoon and check into your beautiful lodge for the next three nights. Enjoy a morning canoe ride deep into a jungle oasis. We'll spend the day floating through the canals of Lake Condenado, an area famously rich with wildlife. Later on, we'll hike to the forest's canopy to watch the fiery sun set below the lush trees and star gaze. Look for famous constellations lighting up the night sky, such as the Southern Cross. (Accommodation: Hacienda Concepcion)
Day 8: Get an early start to spot and photograph the abundant rainforest wildlife, such as caimans, toucans, butterflies, howler monkeys, and an unbelievable array of birdlife. Since 50 percent of the Amazon's animals are nocturnal, we'll also do a night walk, allowing ourselves to become completely enveloped in the incomparable magnificence of the jungle at dusk. (Accommodation: Hacienda Concepcion)
Day 9: After a delicious breakfast, we will head towards Lake Sandoval, navigating by dugout canoe around the beautiful oxbow lake. Here, you will learn about the reserves conversation efforts, the lake formation, the water palms, and the animals that the inhabit this lake - such as the giant river otters, blue and yellow macaws, red howler monkeys, and one of the world's largest freshwater fish. If you desire, you can even take your turn at fishing native style using the "catch and release" technique as you enjoy the scenery around you. Return back to your lodge in the evening to enjoy a traditional dinner and relaxing evening. (Accommodation: Hacienda Concepcion)
Day 10: After we've enjoyed several days of diverse wildlife, stunning landscapes, and welcoming locals, our Peruvian adventure must sadly come to an end. From our lodge, we'll make our way back to Puerto Maldonado, where we'll catch our flight back home.
Departure Airport: Puerto Maldonado International Airport (PEM)
Trip Inclusions
Service Level: Comfortable (clean accommodations; public and private transport)

Route: Cusco, Aguas Calientes, Machu Picchu, Ollantaytambo, Pisac

Accommodation: Guesthouses and boutique hotels

Transport: Small vehicles; bus

Meals Included: Two meals per day
This Acanela Expedition © is the perfect fusion between comfort & adventure. Embark on this small group exploration and have hands-on encounters with local peoples and cultures, while experiencing all the historical & culinary highlights along the way.
Dates & Prices
From $3,800 per person | All-inclusive package including accommodation for all nights; in-country transport by private bus, train, or flight; lecture and instruction materials from our expert guides; all activities; and two meals per day. *International airfare and visa fees not included.
Searching Availability...
Frequently Asked Questions
+ How intense is the climb to Machu Picchu?
Visiting Machu Picchu is actually not a strenuous experience. Unless you are doing the Inca Trail, most people choose to take the train from the Sacred Valley to Aguas Calientes, and from Aguas Calientes a bus to the entrance of Machu Picchu. From the entrance, it is a short, five- to 10-minute uphill walk to reach the ruins.
+ Is there a chance I will get altitude sickness?
While most people do not experience altitude sickness while visiting Peru, it is common for some to feel a slight headache or stomachache on the first day. This is because Cusco (where you spend your first night) is located at the highest elevation of 11,000 feet, whereas the Sacred Valley and Machu Picchu are only 9,000 feet and 8,000 feet, respectively. For those who do experience symptoms, we always have oxygen on hand, and usually after only a few minutes you will feel a lot better.
+ Is Peru a family-friendly destination?
Peru is one of the most family-friendly destinations due to its history, culture, adventure, wildlife, and hospitable people. Our other popular family-friendly destinations include the Galapagos, the Serengeti, and Southeast Asia.
+ What to expect on a Machu Picchu vacation?
Peru is one of our most popular destinations, as it is home to one of the Seven Wonders of the World - Machu Picchu. This trip is catered to travelers of all ages who are looking for an adventure with plenty of opportunities to immerse themselves in the local culture, learn about the history of the Incas, and try some Peru's most delicious cuisine!
+ What should I pack for Peru?
Preparing for your trip to Peru can be overwhelming, so we put together a list of our packing essentials to help you best prepare for your travel experience! Click here for our Peru packing guide.