Destination: Morocco
Travel Style: Classic Expedition
Activity Level: 3 - Medium
Group Size: Min 1, Max 16
Age Range: 18 to 65+
Itinerary Overview
Join us on our small group tour to Morocco! Few countries hold as much dreamy fascination as Morocco. Desert fortresses rise out of the sands of the Sahara. Sapphire oceans caress white sandy beaches. The purple peaks of the Atlas Mountains glisten with snow. Behind every city wall is an adventure in art, architecture, and cuisine. Morocco is a land of endless wonder.
The country is made up of four different areas: the Sahara Desert (full of Berber towns and oases), the Atlas and Rif Mountains (perfect for hikers), the plains (home to the imperial cities of Marrakesh and Fez), and the sandy coastlines of the Mediterranean Sea and the Atlantic Ocean (graced by small beach towns and the cities of Rabat and Casablanca).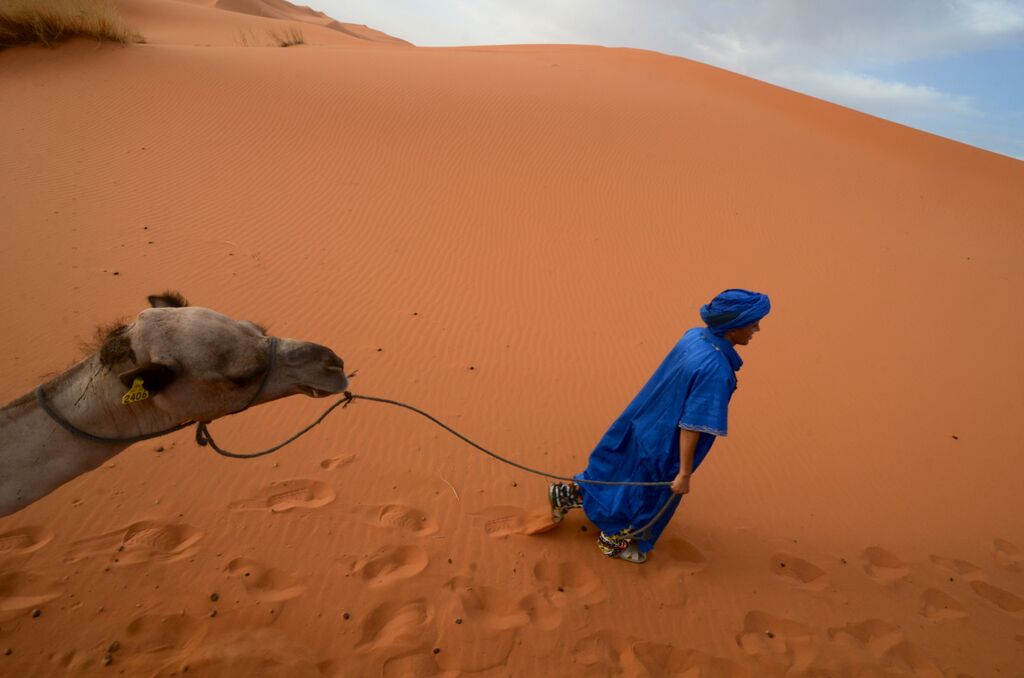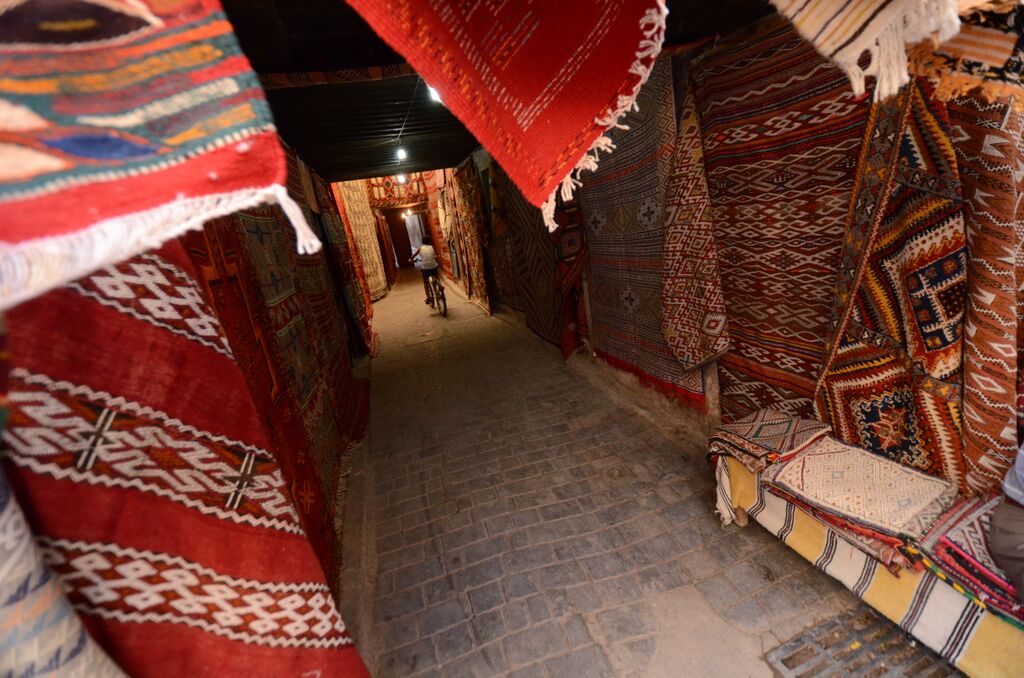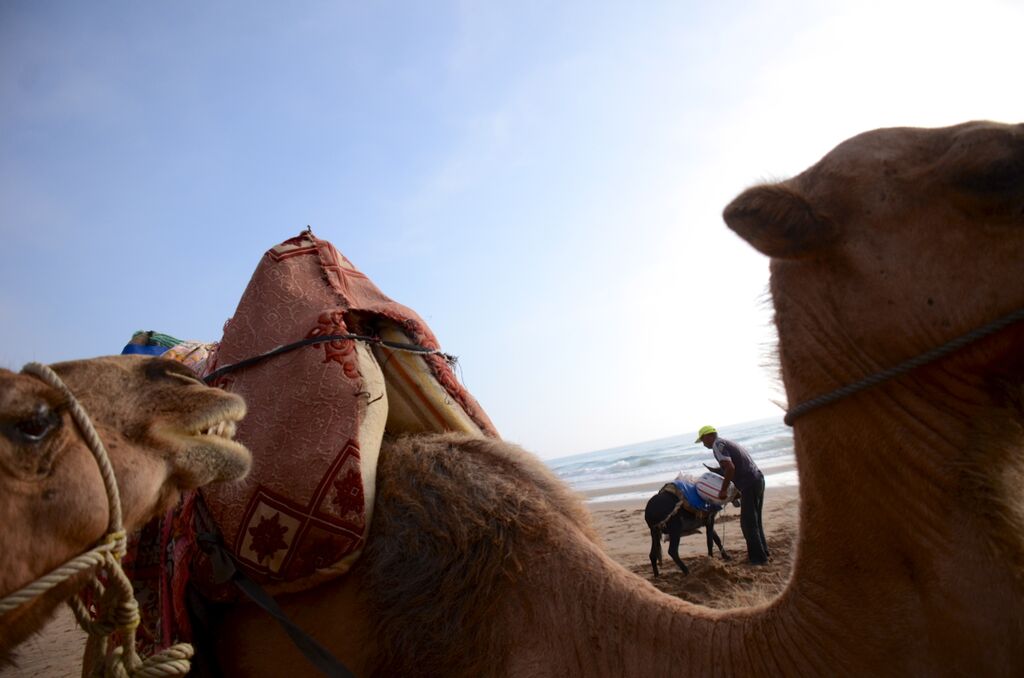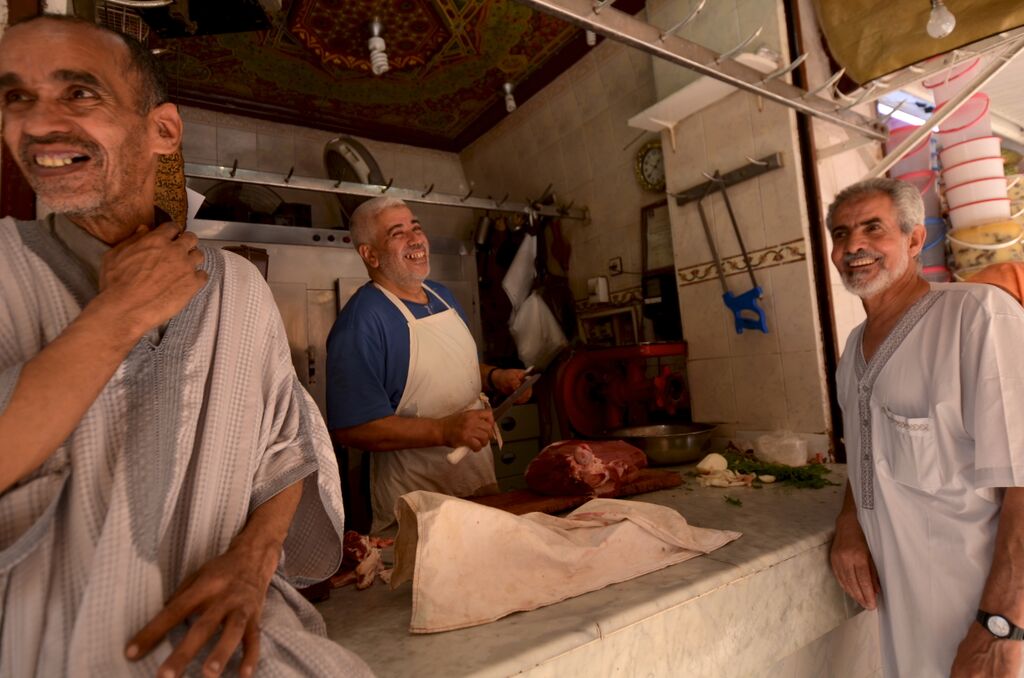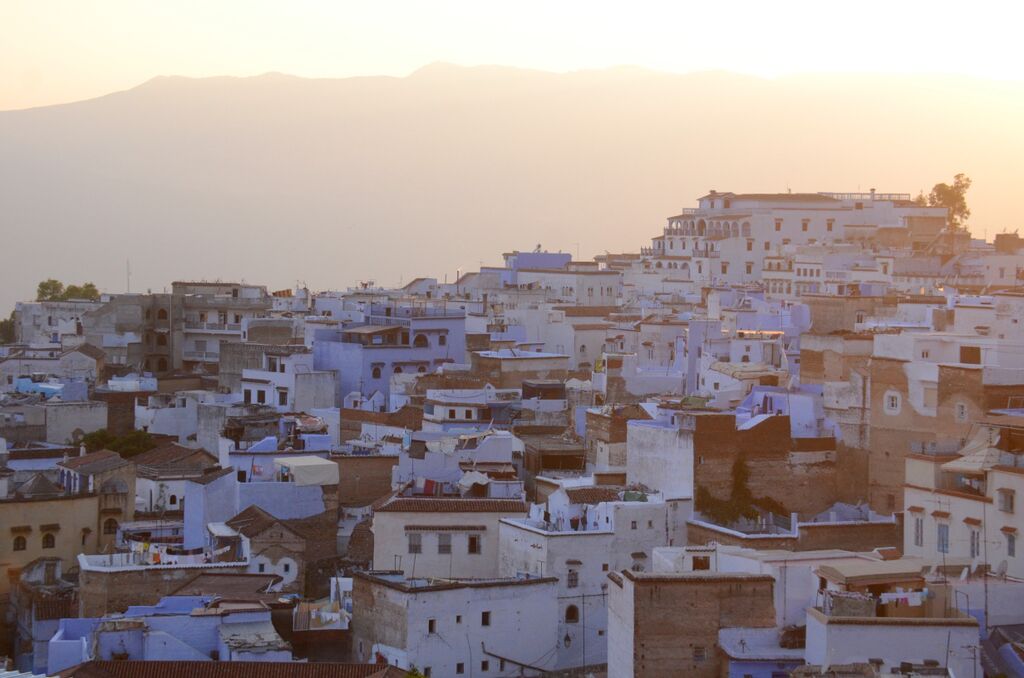 Day 1: Arrive to Tangier, Morocco International Airport (TNG)
see more details >
Arrival Airport: Tangier International Airport (TNG)
Arrive at the Tangier International Airport, where you'll meet your private driver and guide. Travel two hours to Chefchaouen and check into your picturesque riad before enjoying a delicious welcome dinner. (Transport to/from Casablanca International Airport (5 hours) can also be arranged.)
*Accommodation: Riad Lina or similar
Day 2: Visit the Blue City of Chefchaouen, Morocco
see more details >
We'll start our journey in the famous blue city of Chefchaouen, known for its rich turquoise, topaz, and periwinkle tones. Vibrant shades of blue blanket the entire town, from walls to cobblestone pathways, making it impossible to miss from a distance. As we immerse ourselves in the city and become acquainted with one of the most visually unique places in North Africa, we'll learn about daily life in this bustling town and spend the afternoon strolling through the centuries-old markets. We will visit the Museum of Kasbah (built in 1471) and the the Plaza Uta el-Hammam, a stunning city center bustling with vibrancy and life.
Accommodation: Riad Lina or similar
Day 3: Continue Exploring Chefchaouen, Morocco
see more details >
After a delicious breakfast, head out with your guide to explore the city's stunning blue streets - visiting the local artisan markets, shops, and eateries. If you enjoy the outdoors, you can opt to have an incredible hiking experience to Akchour Waterfall — dive into the crystalline water and sip mint tea from local shops along the trail. We'll dine at sunset, overlooking the rolling blue city, then return to the riad for a relaxing evening.
Accommodation: Riad Lina or similar
Day 4: Travel to the Imperial City of Fez, Morocco
see more details >
Fuel up with a hearty breakfast as you prepare to depart to our next destination, Fez (also known as Fes). Welcome to the largest city in the world that doesn't allow cars. Because of this, Fez's streets are famously narrow and warped, with shadowy markets that feel frozen in time—the ideal place for a photo op. You'll go on a tour of the city and enjoy a savory lunch from one of the many local restaurants.
Fez has plenty to see and do, as it's the ancient home to scholars, artisans, and more! The cultural lineage of Fez, coupled with its unique charm, make it a can't-miss destination.
We'll spend the evening at the riad, trying the variety of foods that make Morocco a culinary delight.
Accommodation: Riad Myra or similar
Day 5: Continue Exploring Fez, Morocco
see more details >
This morning, we'll have the opportunity to visit the colorful and complex tanneries of Fez, learning about the centuries-old practices still used today. After exploring this iconic spot, we'll continue on to the honey souks, carpet weavers, bustling markets, and maze-like passageways of this imperial city. To many travelers, Fez has become the country's new culinary capital, and you'll get a taste of just why that is as we dine on local cuisine.
Accommodation: Riad Myra or similar
Day 6: Explore the Medina of Fez, Morocco
see more details >
Wake up and enjoy your last full day in the Imperial City of Fes. Head straight towards the Medina, visiting the markets (souks) to learn about the local ingredients and spices that make up traditional Moroccan cuisine.
In the afternoon, you'll visit a local restaurant for a hands-on cooking class. With the help of an expert chef, you'll learn how to prepare authentic dishes such as couscous, tagine, and delicious Moroccan breads. In the evening, we'll have the opportunity to visit one of the city's many hammams, or bathhouses, where you will be pleasantly surprised at just how pampering Moroccan spas can be.
Accommodation: Riad Myra or similar
Day 7: Depart Fez, Morocco for Casablanca International Airport (CMN)
see more details
We'll start our journey early today, as we travel to Casablanca to catch our international flights back home, or continue onwards to the Sahara & Marrakesh for the extension.
Departure Airport: Casablanca International Airport (CMN)
Optional 5-day Extension to the Sahara and Marrakesh
Day 7: Travel to Merzouga, Gateway of the Sahara
see more details
We'll start our journey early, traveling to the stunning, dusty-orange, mountainous city of Merzouga, the gateway to the Sahara Desert. The drive will take several hours, so be sure to stock up on snacks, water, and other necessities.
We'll enjoy Morocco's breath-taking scenery as we travel south, and we'll dine on a traditional Moroccan meal when we arrive.
Accommodation: Jaimas Madu (Bedouin tent)
Day 8: Explore the Sahara Desert
see more details
Rise with the sun to take in the magnificent, never-ending views of the sand dunes, followed by an energizing breakfast. After we've eaten, we will head into the arid landscape. In a small town at the desert's edge, we'll climb aboard camels and embark on a journey deep into the epic dunes of the Sahara. We'll ride our camels for approximately an hour until we arrive at a Bedouin campsite for the night. We'll join in on a traditional dance and welcome dinner, play the drums, sip calming mint tea, and lounge under the starry night.
*Accommodation: Jaimas Madu (Bedouin tent)
Day 9: Explore the Sahara; Travel to Aït Benhaddou
see more details
We'll rise before dawn to climb a dune just beyond the camp so we can watch the sunrise from a high vantage point. We'll marvel as the desert is flooded with glorious golden light, painting the sand with pastel pinks and purples before transforming into a fiery orange. After we've had our fun lazing in the warm sand and filling our cameras' memory cards, we'll climb back on the camels and return to town.
In the afternoon, we'll travel through Tizi n'Tichka, a winding mountain pass, on our way to Aït Benhaddou, an ancient village that showcases Morocco's earthen clay architecture. The village is often featured in Hollywood films, such as Lawrence of Arabia, Gladiator, and Son of God. We'll delve deeper into the rich history of this captivating settlement before continuing onwards to Marrakesh.
Accommodation: Aït Benhaddou Ksar Ighnda
Day 10: Travel to Marrakesh
see more details
After breakfast, we'll set off for Marrakesh. It'll be another long ride (about five hours), so please plan accordingly. When we arrive, we'll check into our riad and spend the afternoon getting to know the city.
In the afternoon, we'll visit Marrakesh's iconic thousand-year-old market, Jemaa el Fna. The market is open all day, but as the sun sets, it comes alive, glowing with its illuminated food stalls, snake charmers, street performers, musicians, and more. It's a photographer's dream come true!
Accommodation: Riad Adore
Day 11: Say Goodbye to Morocco
see more details
We'll spend our last morning wandering through Marrakesh on a guided tour, visiting a number of local shops, restaurants, and historical sites. This city is a mecca of smoky night markets, winding cobblestone streets, rooftop cafes, and vibrant storefronts selling everything from Berber carpets to exotic animals. There are endless sights to see and areas to explore!
In the afternoon, we'll head to the airport to catch our flights. Although it's been a marvelous journey through Morocco, it's time to go home!
Departure Airport: Marrakesh International Airport (RAK)
Ask about extension options to Casablanca and Marrakech and Essaouira.
Trip Inclusions
Service Level: Comfortable (clean accommodations; public and private transport)

Route: Cusco, Aguas Calientes, Machu Picchu, Ollantaytambo, Pisac

Accommodation: Riads

Transport: Private vehicles

Meals Included: Two meals per day
This Acanela Expedition © is the perfect fusion between comfort and adventure. Embark on this small-group exploration and have hands-on encounters with local people and cultures, while experiencing all the historical and culinary highlights along the way.
Dates & Prices
From $3,800 / person | Comprehensive package including accommodation for all nights; in-country transport by private bus, train, or flight; lecture and instruction materials from our expert driver guides; all activities; and two meals per day. *International airfare and visa fees are not included.
Searching Availability...
Frequently Asked Questions
+ Can you help me book my international flights?
Travelers arrive from all over the world to begin our tours, and it is not possible to include international airfare in our prices. We would be happy to help you arrange flights. Just ask for an air quote when making your booking.
+ Can you help arrange my travel visas?
If you are an American traveler joining this trip, you will not need a visa to visit Morocco.
Please use [VisaHQ][2] to verify the visa requirements for your travel plans, and please be certain that your passport will have at least six months' remaining validity throughout your time in Africa.
+ Is Morocco safe for female travelers?
Yes, absolutely!
+ What type of dress code should we follow in Morocco?
It's best to wear modest clothing - we recommend bringing long, flowy pants if you can (but no jeans, as they would be too hot). Short-sleeved or quarter-length-sleeved shirts are fine as well. We would also suggest bringing a lightweight scarf.
+ What are the accommodations like on this trip?
We will spend most of our trip sleeping in "riads" — boutique hotels (under 30 rooms) that used to be old Arabic mansions. On one night, when we are visiting the Sahara desert, we will sleep under the stars in a Bedouin tent.
+ What is the best way to contact the in-country team?
The best way is to download WhatsApp, a messaging system used by all of our international partners. Their numbers are listed on the itinerary.
+ What are standard tip amounts? Is it customary to tip in Morocco?
Tips in Africa are, on average, $5-$10 (USD) per day for the guide and $2-$3 per day for the driver.
Morocco with Acanela: Video