Thousands of years in the making, the culture of Papua New Guinea is unique and untouched. In the remote villages visitors will find tribes that passionately maintain traditions through art, initiations and Sing Sings. A Sing Sing expressing customary dance, music and traditional costume provides the opportunity for visitors to witness tribal traditions in an explosion of color and sound. On Independence Day (September 16), over 100 tribes across Papua New Guinea gather at Goroka in the Eastern Highlands for a celebration of their cultural diversity. Only a couple of hundred foreigners attended this spectacular and unique event, and you should be one of them.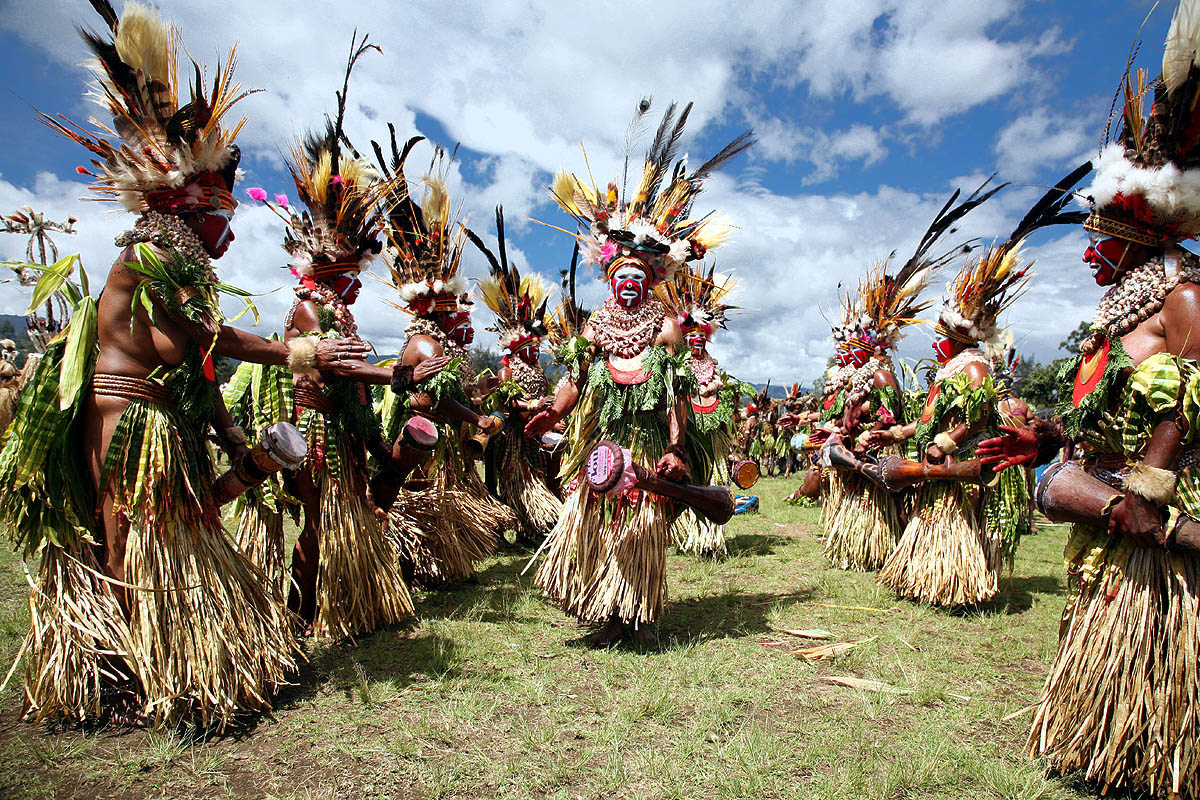 Overview: PNG | 8-11 Days
Departures: Every August & September
Group Size: Max 12 participants
Prices From: $5800 per person
Searching Availability...
Trip Price: $5800 per person
Charter Flights: $2000 per person
All inclusive package including basic accommodation for all nights (B&Bs in towns and huts in villages), all in-country transport, private driver, expert local guides, VIP Sing Sing Festival tickets, Kalam festival tickets, all meals, and all activities as listed on the itinerary. *international airfare, visa fees not included (but we can offer assistance)
This Acanela Expedition © is an adventure with unique cultural interactions in primitive villages with basic accommodations and facilities. Embark on this small group exploration prepared to have many hands-on encounters with local peoples and cultures, all while experiencing all the historical & culinary highlights along the way.
Contact Us: 1-323-657-3496
Call to speak with one of our agents about this trip, or email us at: expeditions@acanela.com
Trip Highlights:
Experience an explosion of color and sound at the annual Sing Sing Festival in Goroka, Eastern Highlands Region of Papua New Guinea

Participate in ceremony viewings of the Simbai people that are normally closed to tourists – adult initiation rites, bride-price exchanges and pig-killing festivities – at the Kalam Festival

Visit the Sepik River Cultural Groups including the Crocodile Cult, where you see their stilt houses, way of living, and even the ritual scars on their backs

Travel to the mudmen's village on the Asaro River witnessing their slow movements, grotesque masks, and clicking bamboo claws as they dance through the bushes and smoke of several strategically placed fires.
Itinerary Overview
Day 1 (Friday) Port Mosby / Goroka: Arrive in Port Mosby in time to be greeted at the airport by a representative who will connect you with your internal flight from Porty Mosby to Goroka - both morning and afternoon flights are available depending on your international flight arrival time. Once you arrive in Goroka check into your accommodation and enjoy an afternoon tour of Goroka - including the JK McCarthy museum, the handicraft & produce markets, and several scenic lookout points over the valley. Accommodation: Basic Hotel | Meals : D
Day 2 (Saturday) Goroka | Sing Sing Festival: After a local breakfast, we will depart for the Sing Sing Festival (just a short distance away) that begins first thing in the morning Here you will witness the dances, music, traditional dress, and unique rituals of many of Papua New Guinea's most remote tribes. Your local guide will be sitting with you to interpret the symbols of the performance and answer any questions you may have. The performance goes well into the afternoon, with opportunities for guests to go up close to the performers and take photographs. Lunch will be provided at the festival and opportunities to take trips back to the accommodation at certain points during the festival is available. Accommodation: Basic Hotel | Meals : B, L
Day 3 (Sunday) Goroka | Sing Sing Festival: During the second day of the Sing Sing Festival you will be entertained and engaged once again by different cultural groups (over 100 tribes attend the event) learning about the history and culture of remote Papua New Guinea over the course of the past hundreds of years. Once again lunch will be delivered to the festival, and after the judging you will have the opportunity to take pictures with different performing groups. In the evening we will explore the nearby Gasaroka village before settling into our accommodations early to prepare for our travel the following day. Accommodation: Basic Hotel | Meals : B, L
Day 4 (Monday) Goroka / Mount Hagen: Mount Hagen, a region in the Eastern Highlands, offers an experience to immerse yourself in the local wildlife and tribal life. As we travel from Goroka to Mount Hagen we will visit Asaro Village, home to the mudmen villages and learn about how the Asaro mudmen live their day to day lives, from hunting, to eating & sleeping. As we continue our journey by car through the forests, you may have the opportunity to spot the Birds of Paradise in the wild - among many other plant & animal species. Along our ruote we will see numerous waterfalls, tea plantations, coffee plantations, and remote villages before arriving to Mount Hagen (the 3rd largest town in Papua New Guinea) in the late afternoon, in time to check into your hotel and enjoy a delicious dinner. Accommodation: Mount Hagen Hotel | Meals : B, D
Day 5 (Tuesday) Mount Hagen / Simbai: Today we will take our first chartered flight North of the Highlands - to Simbai, a short 1-hour flight that will take us to the airstrip, about a 30 minute walk to our home in the village, the Kalam Guest House. We will be meet by the locals at the airstrip and have plenty of helping hands for our bags as well as opportunities for some personal interactions with the locals. After a basic lunch at the Guest House we will set off to explore the village, as well as the farmlands & gardens that surround the village. House Accommodation: Local Village Guesthouse | Basic Meals: B, L, D
Day 6 (Wednesday) Simbai | Kalam Festival: Having just come from the Sing Sing Festival in Goroka, today we will have another opportunity to witness some of the most unique village festival experiences in Papua New Guinea - the Kalam Cultural Festival. here you will have the opportunity to be a part of a the preparations for a traditional feast, involving everything from collecting the firewood to wrapping the garden vegetables in leaves to be placed in the earthen ovens. Learn about the traditional dress of the people, including the headdresses made from feathers, flowers, and insects. Depending on the activities, you may witness traditional rituals such as pig killing and nose piercing - so be prepared. In the late afternoon we will once again retire to our basic accommodations for the evening. Accommodation: Local Village Guesthouse | Basic Meals: B, L, D
Day 7 (Thursday) Simbai | Kalam Festival: After breakfast this morning the festival continues. Spend your morning meeting with the locals and observing the different traditional practices and festival rituals they are involved in. Enjoy a traditional lunch and a special festival feast for dinner. Expect to eat a lot of local vegetables cooked in coconut milk and bananas leaves, traditional meat dishes ranging from wild game to chicken, and a lot of fruit. In the evening enjoy a traditional bonfire stroytelling given by the elders, as they pass down important stories from one generation to the next. Accommodation: Local Village Guesthouse | Basic Meals: B, L, D
Day 8 (Friday) Simbai / Mount Hagen / Wewak: We will awake early to eat breakfast and depart to the airstrip, 30 minute walk from the guesthouse, to board our charter flight back to Mount Hagen. Once we arrive in Mount Hagen we will have just enough time to eat lunch before boarding your afternoon flight onwards to Wewak for the rest of the tour. Wewak is the entry point to the Sepik River - home to the people known as the crocodile tribe. Accommodation: Wewak Hotel | Meals: B, D
*Note: There is an option to end your journey here instead of continuing on to visit the Sepik River / Coastal Region
Day 9 (Saturday) Wewak / Sepik River: In the morning we will depart wewak for a scenic 4-5 hour journey to the village Pagwi, at the base of the Sepik River. Once we reach Pagwi we will transfer into local boats where we will travel nearly two hours to the crocodile cult village of Kanganaman. Here you will experience a very different people and a very different culture. Visiting the large Spirit Houses built along the river - you will be able to observe and learn about the history of the region through numerous artifacts located in the houses. Enjoy a traditional dinner in the village after which a Sing Sing dance will be presented to the guests outside one of the Spirit Houses - giving you an introduction to both the music & dance of this region. Accommodation: Local Village Guesthouse | Basic Meals: B, L, D
Day 10 (Sunday) Sepik River / Wewak: Enjoy a local breakfast and then depart for another Sepik village known as Palembei. With our guides we will explore the village, and learn about the traditional rituals that the men undergo when they receive the "crocodile" scars on their bodies. After a full morning at the village and a traditional lunch with the locals - we will depart once again in our boats and vehicles back to Wewak to overnight for the evening. Tomorrow will be an early morning, so we encourage all oru guests to get a good night of sleep. Accommodation: Wewak Hotel | Basic Meals: B, L, D
Day 11 (Monday) Wewak / Port Mosby: Awaking well before dawn, we will prepare to catch our early morning flight from Wewak to Port Mosby, where we will connect with our international flights back home. Breakfast will be packed and taken with us on the airlines.