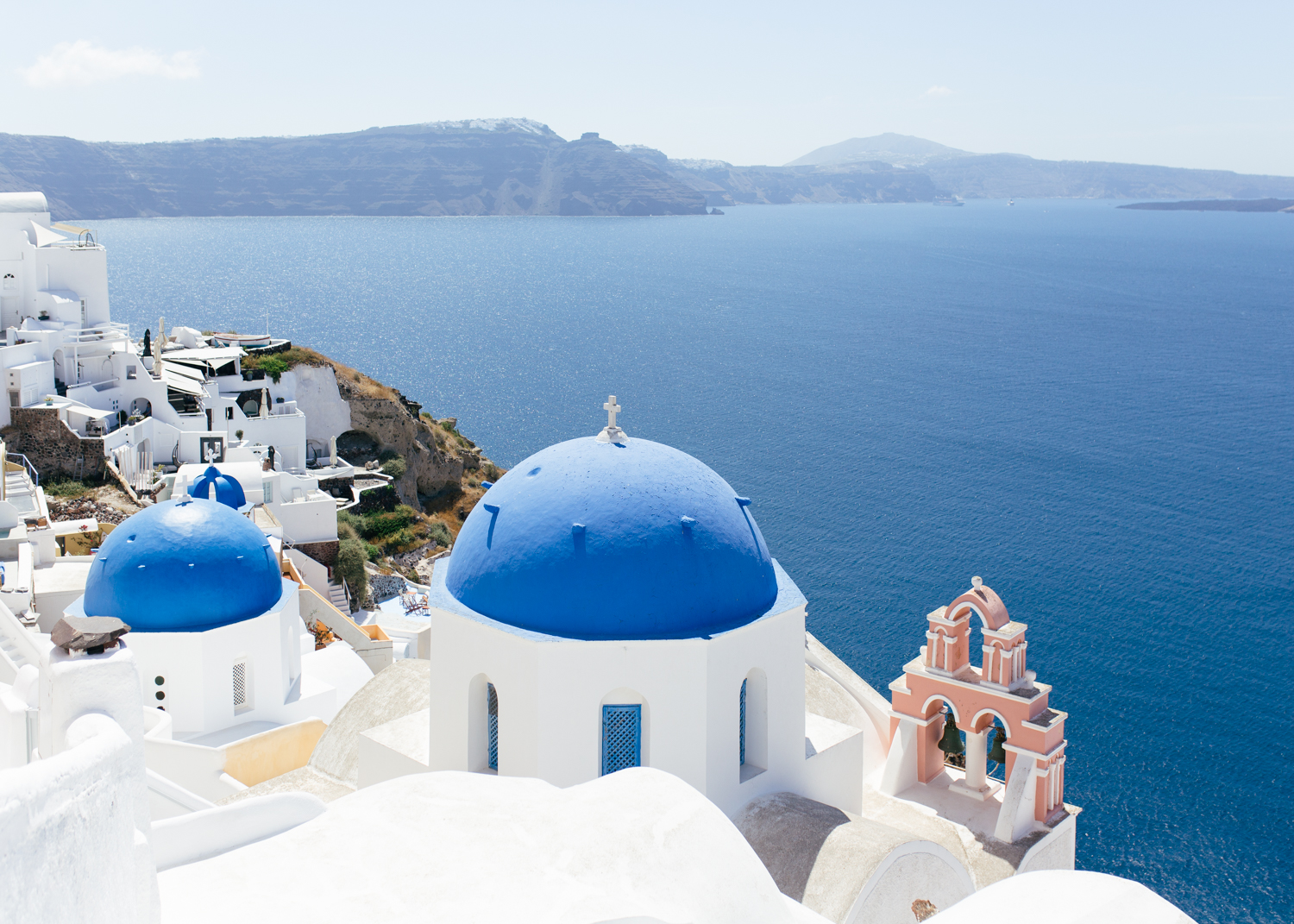 Overview: Greek Isles | 7-11 Days
Departures: Every Sunday
Group Size: Max 16 participants
Prices From: $3600 per person
Dates & Prices
From $3,600 / person | Comprehensive package including boutique accommodation for all nights; in-country transport to activities; ferry rides between islands, expert guides and culinary instructors; all activities; and two meals per day. *International Airfare and Visa Fees are not included.
+ Single Room Supplement: Starting at $600 / person
+ 3-Day Extension to Athens: Starting at $1,000 / person
+ 3-Day Extension to Crete: Starting at $1,000 / person
Please note: Solo travelers are required to choose a single room when they make their booking.
Single Room Supplements and Extension add-ons become available after you select Book Now and hit continue. *Extensions are not eligible for discounts or promotions.
Searching Availability...
This Acanela Expedition © is the perfect fusion between comfort & adventure. Embark on this small group exploration and have hands-on encounters with local peoples and cultures, while experiencing all the historical & culinary highlights along the way.
Day 1: Arive in Mykonos
see more details >
Arrival Airport: Mykonos National Airport (or Ferry Port) Arrive in Mykonos, one of Greece's famous islands. Here you will be greeted by your driver and guide at the international airport (or ferry port upon arrival from Athens) and taken to your hotel where you will overnight for the next three days of your trip. In the afternoon enjoy a relaxing day at Paradise beach and enjoy the city night-life that Mykonos has to offer. In the evening enjoy a traditional welcome dinner from one of the top local restaurants in Mykonos. Accommodation: Leto Hotel or Ilio Maris or similar
Day 2:Island Ruins Tour
see more details >
After a delicious breakfast buffet, we'll set out to explore the Island of Delos. Here you will take a group guided tour of the ancient ruins of once-monumental structures like the Propylaea (formerly a grand marble archway) and the Sanctuary of Apollo. Visit Mount Kythnos (just southwest of the harbor) for excellent views of the surrounding islands and learn about the many of the artifacts recovered from Delos during your visit to the Archaeological Museum of Mykonos. We will end our evening back at the hotel and enjoy another delicious dinner together. Accommodation: Leto Hotel or Ilio Maris or similar
Day 3: Cooking Class with Local Mykonian Family
see more details >
Today you will enjoy a traditional village visit and cooking class with a local family. Your culinary host will wholeheartedly invite you into her beautiful Mykonian home and create a charming and intimate evening that will turn this visit to the "Island of the Winds" into a highlight of your trip. She will teach you about Mykonian culture and history, share stories about her family's life and make you feel just as if you are visiting close relatives or friends. She will share stories about Mykonian true lifestyle and chat with you while you will taste and enjoy some Mykonian meze snacks like dakos with kopanisti cheese and tomato, louza (sun dried pork fillets), wine and Cretan raki. You will wander through her vegetable garden, learn about local organic farming and enjoy a wonderful time. In the kitchen you will make tsatziki and spinach pie, stuffed peppers and tomatoes, beef with orzo and several other traditional dishes.
Accommodation: Leto Hotel or Ilio Maris or similar
Day 4: Ferry Ride to Santorini
see more details >
Enjoy your last delicious breakfast in Mykonos, after which you will check out of the hotel and take your private transfer to the port to catch your fast ferry to Santorini! Upon arrival in Santorini, you will be met by your driver will greet you at your port of arrival. Revel in the breathtaking scenery as you head towards your luxurious hotel, located in Fira, Santorini. After checking into the hotel, enjoy a relaxing afternoon in the village before an extraordinary dinner. Enjoy a delicious 5-course meal with great company and unforgettable views. This experience is just the beginning—it'll spark your curiosity of Santorini's flavors and culture, giving you the perfect introduction to the island's magic. Accommodation: Aressana Spa Hotel & Suites or El Greco or similar
Day 5: Santorini Market visit & Cooking Class
see more details >
Wake up to a mouth-watering breakfast followed by a morning exploring the local markets, eateries, and artisan stalls in one of the most picturesque places in Europe. Visit the coastal village of Oia, known for its "cave houses" built into the town's stunning cliffs and its naval maritime museum. In the afternoon meet with one of the top chefs in Santorini to learn the secrets and techniques of Greek cuisine, and savor the tastes of traditional dishes in a hands-on cooking class. You'll learn to cook authentic local dishes, such as a variety of Greek salads, Santorini's favorite fava bean dish with nuts and caramelized onions, and mussels saganaki. As the lesson comes to an end, you'll join your chef and fellow cooks around the dinner table to enjoy the dishes you've created, complimented with flavorful Greek wines. Are you ready to roll up your sleeves and explore the magic you can make in the kitchen? Accommodation: Aressana Spa Hotel & Suites or El Greco or similar
Day 6: Pyrogos/Meda Historical & Wine Tour
see more details >
Enjoy a delicious breakfast before embarking on a guided tour of Pyrgos and Mesa. Spend the afternoon exploring villages rich with centuries of history, while sampling the flavors of Greek Cuisine. As you join the large group tour, prepare for a journey through Santorini's Venetian past, explore Pyrgos' breathtaking views and historic castle remains, and the serene, abandoned village of Mesa Gonia that feels frozen in time. As part of your excursion, you'll eat a traditional lunch in the village and learn about the diversity of cuisine across the island. In the afternoon, set off on a guided volcanic wine tasting expedition. Santorini holds some of Europe's oldest vineyards, with a history of over 4,500 years. Here, traditional crop cultivation has been preserved throughout the centuries, enriching the superb nature of the local wines. The fertile volcanic soil, mixed with the experience and knowledge of the professional wine-makers, produces local wines with exceptionally high quality. You'll learn why many consider Santorini's wine among the best in Greece, from the unique pruning to the overall wine production process. Enjoy lunch with endless views, as warm sunlight kisses your shoulders and fresh ocean air tickles your nose, as you taste traditional Santorini wines. Accommodation: Aressana Spa Hotel & Suites or El Greco or similar
Day 7: Depart Santorini
see more details >
After one last enchanting breakfast, it's time to say goodbye to the beauty of Santorini. Depart to the airport for your homeward bound flight, or continue onwards to the optional 4-day extension in Crete & Athens. Departure Airport: Santorini National Airport (or Ferry Port)
Optional 3-Day extension(s)
2 Night, 3 Day Pre - Extension in Athens
see more details >
Day 1 - Athens: Arriving in Athens, we will take the time to adjust to our new home by having an introductory lesson of the history and culture of Athens, Greece. We will check into our hotel and set out to explore the nearby Plaka District, including a traditional Mediterranean welcome dinner. Accommodation: Hera Hotel or similar
Day 2 - Athens: Today we will be up early to prepare for our full-day adventure in Athens. After a delicious buffet breakfast, we will head out to see the Acropolis, where the Parthenon temple is perched on a hill that oversaw all of the civilians. Then we'll make our way and visit sites such as the Temple of Poseidon where the historic marathon took place. We will then eat an afternoon lunch close to the Byzantine Museum where you will have a guided tour through this amazing museum. With more than 25,000 artifacts on display, the Byzantine Museum is a treasury of religious artifacts from the Byzantine period as well as pieces from the early Christian, medieval, and post-Byzantine eras. We will end our day with a tour of the ancient Agora: Ruins of the ancient marketplace. You can take a little hike up to Agora Hill where the temple of Hephaistos resides. Accommodation: Hera Hotel or similar
Day 3 - Athens to Mykonos: After breakfast, continue on via high-speed ferry to the start of your experience in Mykonos (see above). *Includes airport transfer back to Athens from Santorini on the last day of Tour
2 Night, 3 Day Post - Extension in Crete
see more details >
Day 1 - Crete: Arrive in Chania, Crete via high speed ferry from Santorini. Crete is a magical tapestry of splendid beaches, ancient treasures, and landscapes encompassing vibrant cities and dreamy villages, where locals share their traditions, wonderful cuisine and generous spirit. Crete is a foodie heaven. The locals make their own meat, cheese, olive oil, wine and catch their own seafood! We will have the chance to go to different markets and enjoy local tapestry from each market and try their amazing food. Accommodation: Kydon Hotel or similar
Day 2 - Crete: We will spend today exploring Imbros Gorge, a National Park on Crete's island. It is one of the most beautitful (and largest) gorges in Europe, and full of amazing natural beauty - you will see amazing flora, fauna and a slew of amazing butterflies. Throughout the gorge there are also little churches and remnants of villages along the way, which we will make stops at during the tour. In the afternoon visit one of the top beaches in Crete that will for sure take your breath away with it's crystal clear waters and volcanic-sand beaches. Accommodation: Kydon Hotel or similar
Day 3 - Crete: After breakfast, check-out of your hotel and continue onwards to the Chania, Crete International Airport for your departure flight back home.
Departure Airport: Crete International Airport