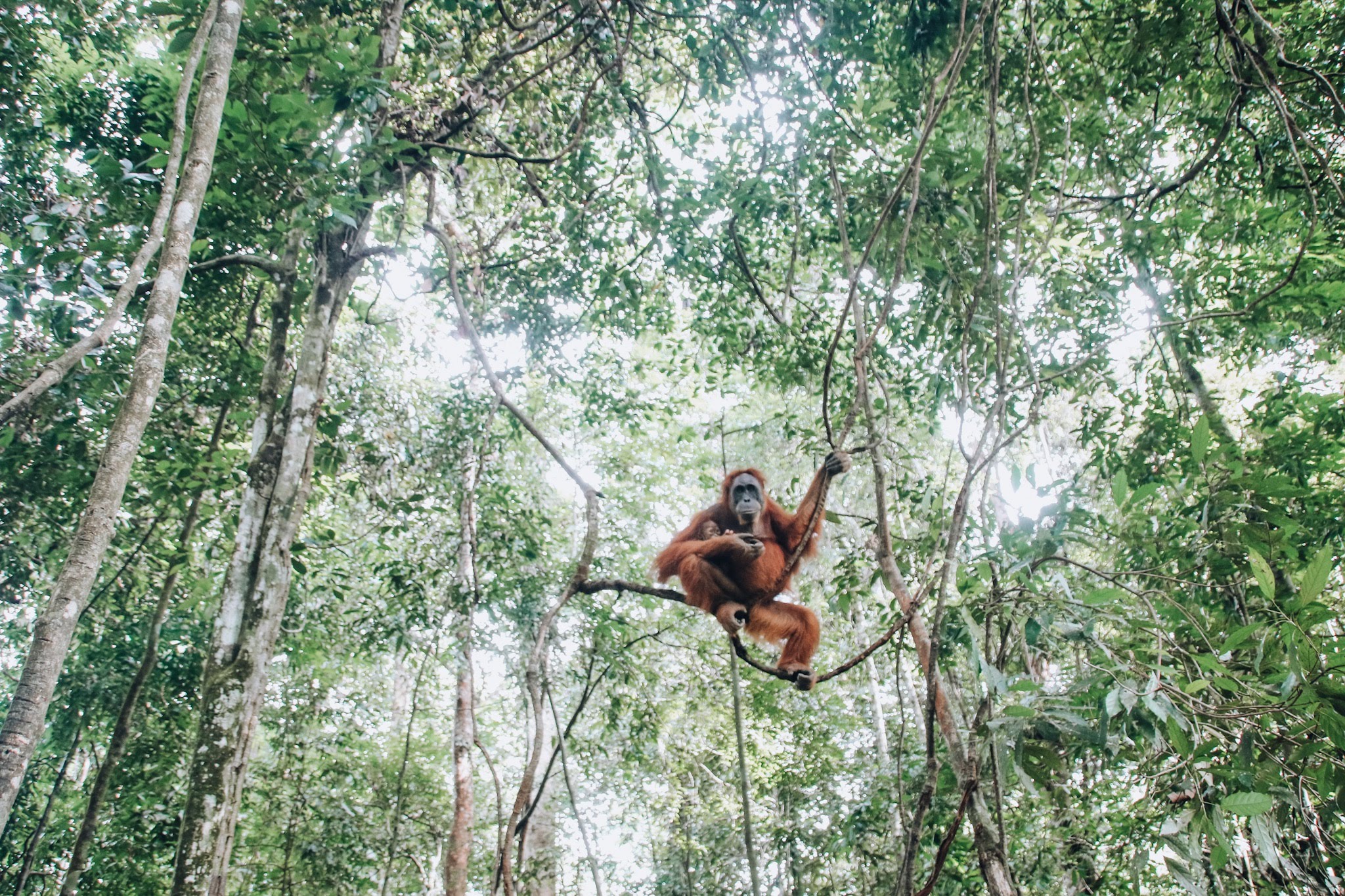 Overview: Singapore & Sumatra | 7 Days
Departures: Every Monday
Group Size: Max 16 Participants
Prices From: $3,200 per person
Itinerary
Day 1: Arrive in Singapore
see details >
Arrival Airport: Singapore International Airport (SIN)
Arrive in Singapore, where you will be greeted at the airport and taken to your hotel.
Day 2: Singapore City Tour
see details >
Spend a full day in Singapore on a guided tour exploring some of the city's top highlights. From Marina Bay Gardens to the Malay Quarter there is so much to experience. In the afternoon enjoy a traditional Singaporean lunch and free time before returning back to your hotel in the late afternoon or early evening.
Accommodation: Crown Plaza, Singapore
Day 3: Singapore to Sumatra
see details>
Enjoying a delicious breakfast, continue to the airport terminal where you will catch your International flight from Singapore to Sumatra. The flight is roughly 1.5 hours, arriving in the early afternoon. Upon arrival you will be met by your Driver & Guide and taken to Bukit Lawang, one of the closest village to the Orangutan Jungles of Sumatra. The drive is approximately 4 hours, with lots of interesting things to see along the way. Upon arrival to Bukit Lawang, you will check-in to your Ecolodge and enjoy a delicious dinner at one of the most beautiful and unique restaurants in the word (made completely from Bamboo). During your dinner you will meet with your guide who will prepare you for the following day's excursion into the Gunung Leuser National Park - home of the orangutans!
Accommodation: Bukit Lawang Ecolodge
Day 4: Orangutan Trekking in Sumatra
see details >
Wake up early in the morning to enjoy a delicious breakfast at the Bamboo Restaurant, during which you will be met by your guide to make sure you are prepared to head into the jungle! Today's excursion starts with a short walk along the river bank, through a rubber plantation, and into the National Park. As you hike you will see different varieties of: Sumatran Orangutan, birds, butterflies, white handed gibbon, hornbills, Thomas leaf monkey, various reptiles possibly even to a Sumatran Tiger or Sumatran elephant (although rare). You will trek for 1-2 hours looking for Orangutans before pausing for lunch in the early afternoon for a picnic of fresh fruit and Nasi Goreng (Indonesia's national dish). After lunch we will continue our trek, spotting several more Orangutans before we exit that national park in the late afternoon. You will return back to the Ecolodge for the afternoon, enjoy free time, coming together for dinner at the Bamboo Restaurant with your guide and group.
Accommodation: Bukit Lawang Ecolodge
Day 5: Orangutan Trekking in Sumatra
see details >
Today you will venture to the outskirts Bukit Lawang to learn about the Sumatran elephant. After a drive of approximately 3 hours from Bukit Lawang, you will near the Sumatran Elephant Sanctuary that is home to several rescued elephants from the logging and Palm Oil trade in Sumatra. These elephants are no longer wild, and are used by the locals to patrol the park to help protect the endangered wild Sumatran Elephants from poachers. It is a unique experience to be with the baby and adult elephants (you will have the opportunity to interact with them as they wash in the river). If you would rather not visit the elephants, you can having the option to going for a second Orangutan Trek in the jungle to spot more Wild Orangutans.
Accommodation: Bukit Lawang Ecolodge
Day 6: Sumatra to Singapore
see details >
After an early breakfast, you will check out of your hotel and embark on the four-hour drive back to Medan International Airport where you will catch your flight to Singapore. Arriving to Singapore in the early evening, you will check into your hotel and enjoy a delicious dinner reminiscing the wonderful experience you just had in Sumatra!
Accommodation: Bukit Lawang Ecolodge
Day 7: Singapore to Home
see details >
Enjoy breakfast before checking out of your hotel and continuing to the airport to catch your flight back home.
Departure Airport: Singapore International Airport (SIN)
This Acanela Expedition © is an active adventure and wildlife safari experience. Embark on this small group exploration and have hands-on encounters with wildlife and local communities, while experiencing historical & culinary highlights along the way.
Dates & Prices
See all dates and prices >

From $3,200 / person | Comprehensive package including accommodation for all nights; in-country transport by private bus, train, or flight; lecture and instruction materials from our expert guides; all activities as listed on the itinerary; and two meals per day.
+ Roundtrip Flight from Singapore to Sumatra: $300 / person
Searching Availability...
Frequently Asked Questions
+ Do your tours include international airfare?
Travelers arrive from all over the world to begin our tours, and it is not possible to include international airfare in our prices. We would be happy to help you arrange flights. Just ask for an air quote when making your booking.
+ Can you help arrange my travel visas?
If you are an American traveler joining this trip, you will not need a visa to visit Singapore and Indonesia. If you are not an American traveler, or if you would like to verify the visa requirements for your travel plans, please use VisaHQ.
In any event, please be certain that your passport will have at least six months' remaining validity throughout your trip.
+ How will I get from Singapore to Sumatra?
You will fly there, then return from Sumatra to Singapore at the end of the trip. Please note that round-trip flights cost $300.
+ What do I need to know about orangutan trekking?
Excellent question! There are about 15,000 orangutans still living in the wild, and deforestation and illegal trading both threaten the species. Our orangutan treks are respectful, ethical, and sustainable journeys into their habitat, led by our wonderful local guide Lillix. Click here to watch a video all about Lillix, and click here to learn more about what an orangutan trek is like.
Singapore and Sumatra Travel Guides